Meet Victoria Chen and Joshua Zeiter
2015 Provincial Easter Seals Ambassadors who will spend the year representing Easter Seals and raising awareness for kids with physical disabilities across the province.
Victoria Chen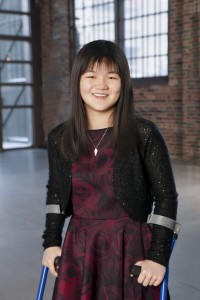 Piano, flute, saxophone, guitar and ukulele are just a few of the instruments 15-year-old Victoria Chen has learned to master. She credits music with helping her "grow into a more interactive, capable and confident person, making me feel energized and alive."
An only child, Victoria was initially diagnosed with unspecified spinal cord damage which was later defined as transverse myelitis. As a result, her lower extremities are fragile and she has difficulty with balance. "I can't walk without using a mobility device. I get tired easily by standing or walking and I feel sore in my muscles especially in my back. When I go out, I sometimes need to sit in a transport chair and have my parents push the chair around. Otherwise, I get too tired to do anything else."
Victoria wears ankle foot orthotics on both feet and uses forearm crutches to walk short distances and a walker for longer distances.
Despite her disability Victoria enjoys life to the fullest. She is incredibly active at school and participates in a variety of extracurricular activities including school bands, choirs and the Peel District Honour Bands and Jazz Bands. Victoria is an enthusiastic student who foresees a career in the medical field where she can help people, especially children, live a better life.
In the past few years Victoria has benefited from a variety of Easter Seals services and programs, such as Recreational Choices Funding Program, attending special events and accessing informational newsletters that are an important resource for her family. Because of this, Victoria feels a need to give back. "I really want to express my gratitude by advocating for Easter Seals, whose mission is to provide support for children and youth like me."
Victoria is excited to be the 2015 Provincial Easter Seals Ambassador because it will provide opportunities to meet people who support her cause across Ontario. "I am a bit nervous about all the speeches and interviews, but I am fully devoted to my duty as an ambassador and will try my best to be a successful one."
In the coming year Victoria aims to present the true image of Easter Seals, "on behalf of the thousands of kids struggling with physical disabilities in Ontario."
Joshua Zeiter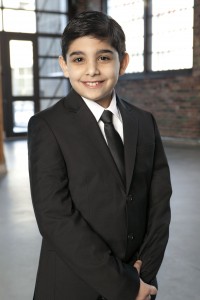 As an outdoors enthusiast there is nothing that 10-year-old Joshua Zeiter enjoys more than playing sports. Swimming, baseball and football are just some of the activities he participates in during his spare time.
Joshua lives in Leamington, Ontario with his parents and eight-year-old brother, Zachary. A sociable child, he loves interacting with new people. He served as a Local Ambassador for Windsor/Essex in 2013 and is a seasoned advocate for Easter Seals Ontario, having travelled to parties, events and television appearances!
Born with an underdeveloped cerebellum, Joshua has difficulty with his balance, coordination and fine motor skills. "I have worked really hard to walk on my own but I still lose my balance sometimes." He uses a walker for long distances, or for running and playing sports. He also requires a computer to type his school work because he finds it challenging to write clearly.
French is Joshua's favourite subject at school and he is interested to learn more languages. Joshua finds math the hardest subject, but he works really hard to keep up with the work and always maintains a positive attitude Joshua's family has been impressed with how tremendously supportive his school has been.
Joshua has been to Easter Seals' Family Camp three times and this year he hopes to attend Discovery Camp even though it means he will be away from his family. "I want to go to Discovery Camp because I believe I am ready for that experience." When at camp he enjoys hanging out with the camp councillors, the high ropes course, the rock climbing wall, football (of course!) and sword fighting as part of the drama program.
Joshua has not allowed his physical disability to keep him from his favourite activities. In addition to sports, Joshua has a fondness for horseback riding and bowling. He also dances, learning new break-dance moves by playing Just Dance on his XBox with his mom, brother and cousins.
As a Provincial Ambassador, Joshua looks forward to public speaking engagements to teach people across the province that children with physical disabilities can succeed like all children. "We just need some modification to do it. Easter Seals helps kids like me to do the things we love to do."
About his duties as this year's Provincial Ambassador, Joshua says that he will be "the voice for children with physical disabilities."