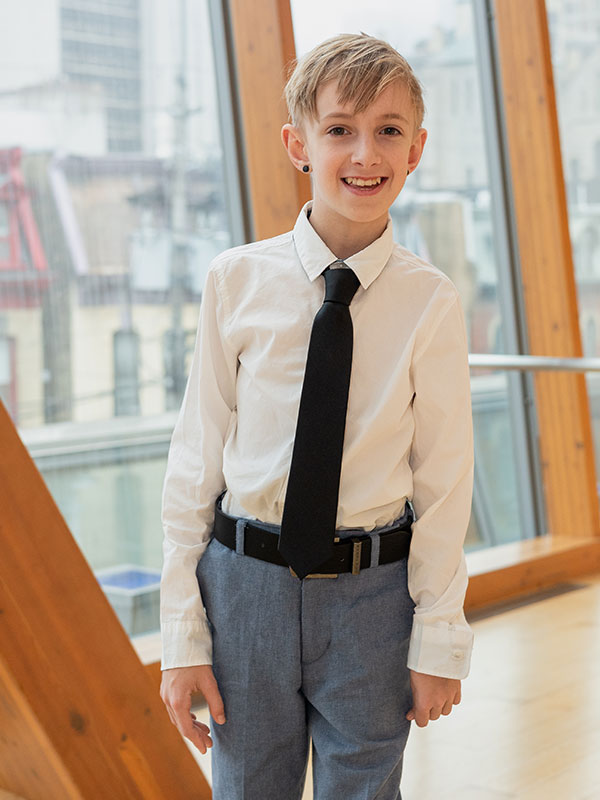 This year, Ryerson (they/them) is stepping into not one, but two exciting new roles as the 2023 Provincial Easter Seals Ambassador and the proud older sibling of their newborn brother, Theo. With big things on the horizon, Ryerson is looking forward to the many memories to be made this year. Passionate about raising up others, Ryerson is excited to use their time as Ambassador to help more kids gain access to the equipment they need to experience freedom and fun in their daily lives. Ryerson brings the same love and compassion to their other new role as the older sibling of Theo. They shared, "he is only 4 months old and I love him so much!"
Diagnosed with cerebral palsy, Ryerson's disability affects the left side of their body. "My arm and leg don't function the same as other people. It makes my muscles super weak and I find my bones are very achy. I find it harder that my leg doesn't work the same since I cannot move around like the rest of my friends." To help with movement, Ryerson uses a cane to get around. "It helps me not fall over by walking steady and keeps my foot flat." Ryerson's disability can make certain aspects of life a little challenging such as "running, picking up things, balancing, sports, dressing, and doing things independently," they shared.
Though Ryerson's disability presents challenges and requires them to do things a little differently, Ryerson is so much more than their disability. "I want people to know about me that my disability is a lot smaller than who I am as a person," they shared. A creative and kind-hearted 12-year-old, Ryerson has a love of animals, drawing, camp, videogames and much more. A true adventurer, Ryerson has also attended Easter Seals' fully accessible camp a total of four times, where their favourite activity is archery.
For Ryerson, who has experienced first-hand the impact of equipment and camp, they believe it is crucial that kids with disabilities have access to the resources they need. It is these convictions that Ryerson brings to their role as Ambassador. "I want to be an Ambassador because I want to help kids get the equipment they need by fundraising, so their worlds can be more fun and accessible," they shared. Ryerson believes that with the right equipment and resources, kids can be free to live their lives on their own terms and do anything they choose to do. "As an Easter Seals Ambassador, I hope to help people get equipment and greater accessibility, so they can have fun, do they activities they want to do, and everything!"