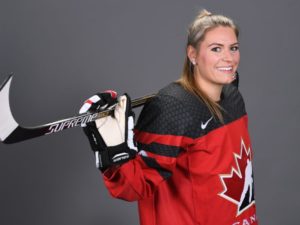 The impressive medals haul belonging to Team Canada forward Natalie Spooner expanded by one very big, shiny Gold Medal at the Beijing Olympics when Team Canada steamrolled to a perfect record, punctuated by two sweet victories (including in the Championship Game) against bitter rival Team USA. Over the seven games, Scarborough's Spooner accumulated 14 points (including 11assists) to tie teammate Brianne Jenner for third in tournament scoring. In fact, Canada produced the top six scorers considering outputs from Sarah Nurse (18), captain Marie-Philip Poulin (17), Claire Thompson (13) and Sarah Fillier (11). Spooner's Olympics medals count now stands at three with Beijing Gold adding to her Gold in 2014 and Silver in 2018.
In eight IIHF World Championships, she has two Gold medals (2012 and '21), five Silver (2011, '13, '15, '16 and '17) along with Bronze in 2019. She began playing hockey at age four with one year of boys' hockey before switching to the Durham West Lightning Girls Hockey Association. She earned a scholarship to Ohio State University where she completed four strong seasons where she set the school's all-time goal scoring record while earning a Pre-Med Nutrition degree.
In 2012, she was selected in the Canadian Women's Hockey League (CWHL) draft by the Toronto Furies and excelled in that league as well. She joined Meaghan Mikkelson to finish second in Amazing Race Canada in 2014 and also was runner-up in Battle of the Blades 2019 when paired with Andrew Poje. Spooner is already helping tutor the next generation of women's stars with her one-week summer High Performance Academy for Girls. Spooner married Adam Redmond last July making the past year of her life all that more special. Congratulations Natalie!