2021 CONN SMYTHE LIFETIME ACHIEVEMENT AWARD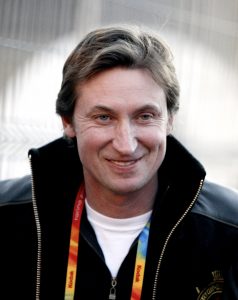 He is known as The Great One or 99. Merely mentioning one or the other immediately identifies the iconic hockey legend – Wayne Gretzky.
Born 60 years ago in Brantford, Ontario, he put his hometown city on the map at a very young age. His father, Walter, put him on the backyard rink as soon as he could put on a pair of skates, teaching him the beauty of hockey and telling him to keep his own hockey hero, Mr. Hockey, Gordie Howe. Not surprisingly, the No. 9 of the Detroit Red Wings became little Wayne's hockey idol, too.
Gretzky went on to shatter every remarkable NHL and pro record Howe had set. By the time Gretzky retired in 1999 when he earned instant entry into the Hockey Hall of Fame, he'd set 61 NHL records, scored one more NHL/WHA goal than Howe (1,072), won four Stanley Cups with the Edmonton Oilers and boosted the spread of hockey in U.S. sunbelt regions and right across the globe.
As a youngster, Gretzky frequently made trips to the Hockey Hall of Fame where he'd hang out and stare at pictures and look at the memorabilia. When his induction happened for him, it literally amazed him to be in the same company as the historical figures he'd come to know through his personal intrigue with each visit to the Hall.
The 70th – and first virtual – Rogers Conn Smythe Sports Celebrities Dinner & Auction in support of Easter Seals Kids tonight makes The Great One the very next one to receive the 2021 Conn Smythe Lifetime Achievement Award for significant contributions to Canadian sports. Cliff Fletcher (2016), Paul Beeston (2017), Paul Henderson (2018), Jerry Howarth (2019) and Michael (Pinball) Clemons (2020) are the only other previous recipients of this distinguished award.
One should also note that Gretzky has another connection to Conn Smythe. You see, in 1985 and again in 1988 it was Gretzky who captured the Conn Smythe Trophy as Most Valuable Player in the Stanley Cup Playoffs, capping championship seasons for the dynasty Oilers.
His pro hockey career began in the World Hockey Association with the Indianapolis Racers and Edmonton Oilers before he amazingly carried the National Hockey League to another stratosphere with the Oilers, Los Angeles Kings, St. Louis Blue and New York Rangers.
On the international stage, both as a player and an executive, he led Canada to some of its most everlasting moments.
When he played his final NHL game on that unforgettable night at New York's Madison Square Garden, he was asked how he'd like to be remembered. His response caught no one by surprise as it encompassed his passion for his teammates and his approach to the game.
"Probably just that I cared about the team and I cared about my teammates," Gretzky said. "I don't think I ever played without ever giving an honest effort, whether it was an exhibition game in September or Game 7 in May.
"If you work and you prepare and you play as hard as you can, that's all you can ask for as a player. Some days it goes great for you and some days you struggle. But if you do your best and prepare your best, that's all you can ask for."
Some months later upon his enshrinement in the Hockey Hall of Fame, Gretzky offered a heartfelt appreciation for his sport.
"If you work hard, great things can happen," he said. "Dreams do come true. I'm living proof of that. I love the game. Everything I have in my life I owe to hockey."
As we pay tribute to The Great One tonight, we also celebrate the wonderful life of Canada's Hockey Dad – Walter Gretzky – who died in March of this year at the age of 82.
"He was a remarkable man who loved life, loved family," Wayne said in his eulogy. "We'd be a way better world if there were so many more people like my Dad."
The saying "the apple doesn't fall far from the tree" aptly applies to Wayne Gretzky who has lived life as his father taught him. The Great One has made an enormous impact in Canadian sports and within his community wherever he's lived. Tonight we say "thank you Wayne and congratulations on your much-deserved Conn Smythe Lifetime Achievement Award!"