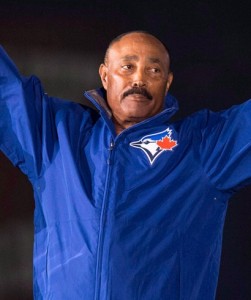 When he was offered the job as interim manager of the Blue Jays on May 15, 1989, Cito Gaston didn't want the job. Joining the Blue Jays coaching staff as hitting coach under incoming manager Bobby Cox on November 4, 1981, he relished his role as a teacher and groomed numerous rising talents such as George Bell, Jesse Barfield, Lloyd Moseby, Fred McGriff and Cecil Fielder.
He was quite content maintaining his hitting coach role in 1989 under Jimy Williams but things changed quickly when the club struggled with its 12-24 start. The Blue Jays removed the "interim" tag and made Gaston the club's "permanent" manager on May 31, 1989. As Gaston likes to say "the rest is history" – and what a legacy it was!
The Blue Jays went 77-49 with Gaston at the helm in 1989 as they marched to their second division title (their first came in 1985). Gaston managed the Blue Jays to back-to-back World Series' Championships in 1992 and '93 despite a double-digit change in lineups. Along with those remarkable achievements, Gaston's run from 1989 to '97 also included two ALCS titles, four AL East pennants and managing the AL All-Stars in 1993 and '94. He then returned to manage the Blue Jays from June 20, 2008 through the end of 2010.
In Blue Jays history, Gaston is first in games managed (1,764) and wins (913). Gaston earned his spot on the Blue Jays Level of Excellence with the official ceremony on July 30, 1999. His given names are Clarence Edwin but say, hear or read the name "Cito" and everyone knows who that person is – and what he represents in Blue Jays annals.