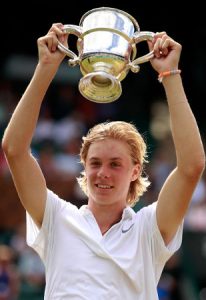 Look around the world's sports landscape these days and one can't help but be impressed with the youthful Canadian talent … The LPGA's Brooke Henderson, only 19 … The NHL's Connor McDavid, just turned 20 … The NBA's Andrew Wiggins, who's 21 … And knocking on the door in tennis is 17-year-old Denis Shapovalov whose meteoric rise leaves little doubt of future stardom.
Born in Tel Aviv but arriving in Canada before his first birthday this resident of Richmond Hill comes a family immersed in sports. His father, Viktor, had a strong background in volleyball while his mother, Tessa, brings the passion for tennis. In fact, Tessa and Adriano Fuorivia has combined their efforts to coach Denis to remarkable accomplishments already.
In 2015, Shapovalov teamed with fellow Canadian Felix Auger-Aliassime to capture the U.S. Open Juniors doubles title. Last year, Shapovalov shone on his own by winning the Wimbledon Junior singles crown. That made him the third Canadian to win a Junior Grand Slam title. He combined once more with Auger-Aliassime to reach a Grand Slam doubles final, this time losing in three sets at Wimbledon in 2016. Moving from there, Shapovalov made his first ATP main draw appearance in Washington before turning heads as a Wild Card for the Rogers Cup in Toronto last summer. His homecoming was jubilant and memorable. He created quite a buzz beating No. 19 ranked Nick Kyrgios at the Rogers Cup before losing in the next round. As of January 16, 2017, he was ranked No. 234 but it won't be long before his rise continues.
Remember the name … Denis Shapovalov … Canada tennis star in the making!