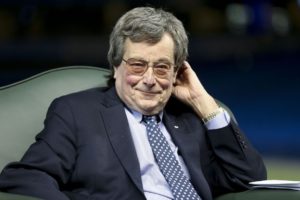 He doesn't wear socks – unless he absolutely has to in the deepest chill of our Canadian winters. He enjoys his cigars; he's a fast talker known for his distinctive laugh. And he is forever linked with the Toronto Blue Jays since he became the club's first-ever employee on May 10th, 1976.
Paul Beeston was added to the club's prestigious Level of Excellence on April 4th, 2008. As the Blue Jays evolved from American League expansion club in 1977 to World Series' champions in 1992 and '93, Beeston's influence increased throughout. From Vice-President of Business Operations in 1977 he became Executive Vice-President, Business in 1984, President and Chief Operating Officer in 1989 and Chief Executive Officer in 1991.
From 1997 to 2002 he served as President and Chief Operating Officer of Major League Baseball. He returned to the Blue Jays and Rogers Centre as Interim President and Chief Executive Officer from October 2008 to October '09 when he then assumed those positions full-time through to the 2015 season. A year later during the Blue Jays' drive for a second consecutive postseason appearance, Beeston became the club's first President Emeritus, a title he will retain in perpetuity.
Two years ago, Beeston was saluted as the second recipient of the Conn Smythe Lifetime Achievement Award.