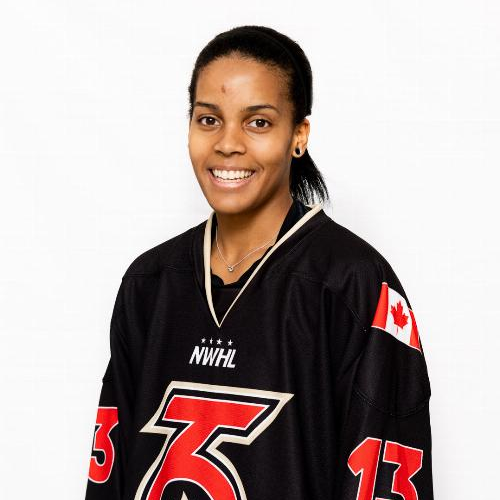 Little did Mikyla Grant-Mentis know that she made history when she signed her $80,000 contract in May 2022 with the Buffalo Beauts of the Premier Hockey Federation. She was unaware that the one-year deal made the standout forward from Brampton the highest paid player in PHF history. And that is a huge step in the right direction for women's hockey as it seeks to make inroads as an appealing full-time career option for its blossoming array of talent!
History making is nothing new for this 24-year-old forward as in 2021 with the Toronto Six, Grant-Mentis became the first black player to capture the PHF's Most Valuable Player Award. In fact, along with that MVP honour she became the most decorated player in PHF history for a single season, adding Newcomer of the Year, Foundation Award and Fans' Three Stars award during that campaign. Her love of hockey is greatly inspired by her father, James, whose prowess came in ball hockey with Team Canada and Team West Indies. Prior to launching her pro career, Grant-Mentis starred in NCAA Division 1 at Merrimack College where she obtained her Bachelor's Degree in Criminology. Her 137 games with Merrimack saw her establish her school records for points (117) and assists (61) while she ranks second all-time in goals (56). She made her pro debut with the Beauts after finishing at Merrimack in 2020, producing two goals and three points over two games. Following two very strong seasons with the Toronto Six in which she scored 19 goals and 22 assists for 41 points in 27 regular season and playoff games, Grant-Mentis returned to the Beauts where to no one's surprise she's emerged as the club's most potent scorer.
The future of women's pro hockey is bright indeed with the likes of Mikyla Grant-Mentis leading the way!