With plans to educate the world on how to better treat and accommodate those with disabilities, 2023 Provincial Easter Seals Ambassador Niki (she/her) has the lived experience, intelligence, and heart to make a true impact. Born with Musculocontractural Elhers-Danlos syndrome (mcEDS), Niki describes her disability as a rare genetic connective tissue disorder that affects her mobility and makes her very fragile and prone to injury. "As someone with a disability, I have a lot of lived experience with ableism, accessibility barriers, and accommodations," shared Niki, who turned 12 this past September.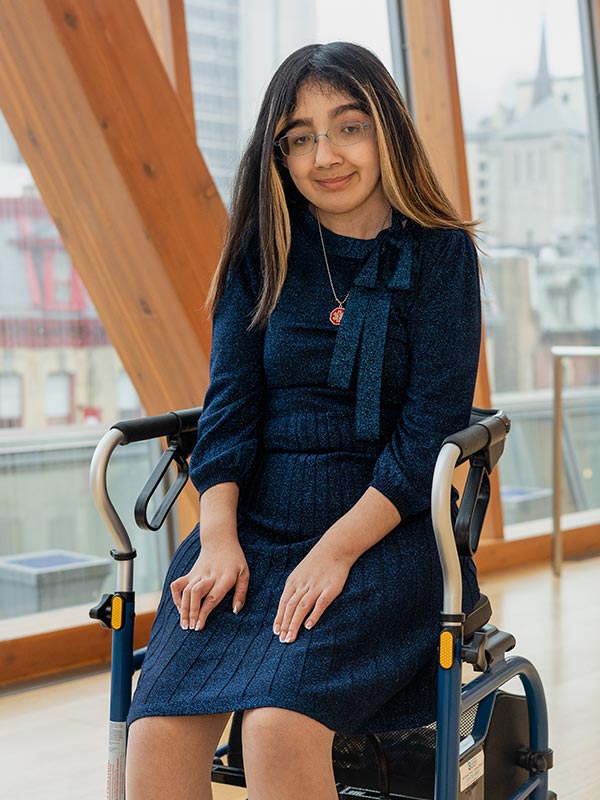 Currently in Grade 7, Niki is a bright student with a special interest in mathematics. With ambitions of becoming a dermatologist, Niki's interest in this career path stems from an enthusiasm for skincare and a desire to help others. True to her nature as someone committed to uplifting others, Niki spends her spare time tutoring other students in both Math and English. Outside of academics, Niki loves to stay active by swimming, and also enjoys cooking and baking, reading, watching Netflix series, travelling, and shopping.
The youngest of three, Niki has two older siblings, one of whom, her older sister, Lexi, shares the same rare condition (mcEDS). Niki also has an older brother named Alex who has Batten disease. Though able to walk, Niki uses a walker and wheelchair to prevent injury. In addition to being prone to injury, Niki experiences challenges with mobility, fatigue, balance, and motor skills due to her disability. Through Niki's experiences with mcEDS, she has developed a unique insight and interest in disability advocacy, which she plans to explore further in her role as Provincial Easter Seals Ambassador. "As a Provincial Ambassador, I will advocate for people with disabilities and educate others on the barriers we face and how non-disabled people and institutions can implement more accessibility and inclusion," shared Niki. "I want to promote advocacy and inclusion. I hope to use my lived experience to educate others and learn more about other kids' experiences with their disabilities," she continued.
This year, Niki is looking forward to meeting new people and cultivating relationships. "I am also hoping to use my platform to improve on my public speaking and learn more about how to represent an organization," she shared. As a Provincial Ambassador, Niki hopes to spread her message that she is here to be both an ear to those who wish to share their experiences and a voice for those who seek change. "I want people to know that I will try to be the best Ambassador that I can be, and I want people with disabilities (or loved ones of someone who has a disability) to know that they can always count on me to share their experiences. Whatever barriers they are facing, I will try my best to use my platform and resources to help."