CO-RECIPIENT
2022 CONN SMYTHE LIFETIME ACHIEVEMENT AWARD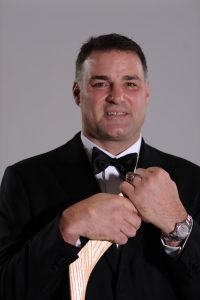 The Big E … Number 88 … Tower of Power, a hockey superstar uniquely, unbelievably blessed with a large, intimidating frame (6-foot-4, 240 pounds/193 centimetres, 109 kilograms) AND the skill of the best small men in the game.
All these reflections speak of one sporting legend. He is, of course, Eric Lindros.
His accolades in hockey are too numerous to mention. But his credits that led to his induction into the Hockey Hall of Fame in 2016 include two Gold Medals with Canada's Junior team, one Gold and one Silver with Canada at the Olympics, MVP honours with the NHL's Hart Trophy and the NHLPA's Lester B. Pearson Award in 1995, seven NHL All-Star selections and one Memorial Cup championship.
And tonight, well, let's just say that The Big E is overwhelmed for the recognition bestowed upon him by an organization he passionately believes in and has long embraced, including with previous head table presence.
The 71st Rogers Conn Smythe Sports Celebrities Dinner & Auction in support of Easter Seals Kids is proud to celebrate Joe Carter and Eric Lindros as co-recipients of the 2022 Conn Smythe Lifetime Achievement Award for significant contributions to Canadian sports. We are thrilled that Ron MacLean, one of Canada's all-time great sportscasters, will introduce Lindros as only he can.
The Big E was once labeled The Next One in reference to predictions he would be the heir apparent to The Great One, Wayne Gretzky. Rather fittingly, Lindros receives this recognition the year after Gretzky – virtually – graciously accepted the Conn Smythe Lifetime Achievement Award.
Cliff Fletcher (2016), Paul Beeston (2017), Paul Henderson (2018), Jerry Howarth (2019) and Michael (Pinball) Clemons (2020) are the other previous recipients of this distinguished award.
Andrew Jackson, CEO of Jackson Events Inc. and a member of the Rogers Conn Smythe Dinner Committee, is one of The Big E's longtime friends and business associates. Jackson has first-hand knowledge of how deeply rooted Lindros is to Easter Seals Kids and to Easter Seals Ontario especially in this special 100th year of the organization helping kids with physical disabilities succeed.
"Eric is incredibly honoured and humbled that we will recognize him this year," Jackson said. "His commitment to Easter Seals is unlike any other celebrity that I have ever dealt with. He cares deeply for the kids, families and everyone associated with Easter Seals, as do many others. But he actively engages his colleagues and partners to sponsor and raise money to assist. He and his family also quietly donate a significant amount each year through the Lindros Family Foundation and he is up for any request if there is an opportunity to enhance his event in support of Easter Seals."
Although a series of concussions led to his retirement from the game on November 8, 2007 at the age of 34, Lindros is still finding a way to score big time for Easter Seals Ontario. The 88 Eric Lindros Celebrity Hockey Classic in support of Easter Seals Ontario raised over $400,000 in 2021, vaulting the 10-year total to over $3-million. Those numbers will rise come November 10-11 this year when Eric, his NHL/NHLPA friends, participants and sponsors take to the ice for another 88 Eric Lindros Celebrity Hockey Classic.
When Lindros left the game he loved, one of the things he said he most missed was the camaraderie of being around the rinks. His celebrity classic helps fill that void and allow those attending to remember just what a great competitor he was.
His NHL career covered 13 seasons with the Philadelphia Flyers, New York Rangers, Toronto Maple Leafs and Dallas Stars. He generated 372 goals, 493 assists, 865 points over 760 regular-season games plus 57 points (24 goals) in 53 playoff games which included leading the Flyers to the Stanley Cup Final in 1997.
Lindros was most remembered as dynamic centre for the Flyers' king-sized, overpowering, prolific line "The Legion of Doom" with John LeClair and Mikael Renberg. A Flyer from 1992 to 2000, including serving as the team's captain from 1994-2000, Lindros posted 290 goals and 659 points in 486 regular-season games to go along with 57 points in 50 postseason games over those years donning orange, black and white. On January 18, 2018, Lindros became the sixth player to have his jersey retired by the Flyers.
Eric Lindros made an impact in hockey's highest levels, in Canadian sports – and well beyond that through his charitable efforts especially to Easter Seals Kids. Tonight, it's our turn to say "thank you Eric and congratulations on your much-deserved Conn Smythe Lifetime Achievement Award!"