2017 CONN SMYTHE LIFETIME ACHIEVEMENT AWARD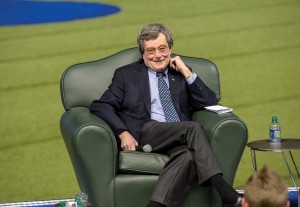 He doesn't wear socks – unless, of course, he absolutely has to in the deepest chill of our Canadian winters. He enjoys his cigars; he's a fast talker known for that distinctive laugh of his.
And he is synonymous with the Toronto Blue Jays to the degree his name was added to the club's prestigious Level of Excellence along with close friend Roberto Alomar on April 4, 2008.
Since the Blue Jays were awarded their franchise in 1976, the Level of Excellence features an awesome 10 legends – Alomar, Beeston, George Bell (April 9, 1996), Joe Carter (July 30, 1999), Tom Cheek (August 29, 2004), Carlos Delgado (July 21, 2013), Tony Fernandez (September 23, 2001), Cito Gaston (July 30, 1999), Pat Gillick (August 7, 2002) and Dave Stieb (April 9, 1996).
Of this illustrious group, Beeston stands out as the first-ever employee of the Blue Jays who hired him on May 10, 1976. Beeston launched his accounting career with Coopers & Lybrand in 1968 and rose up the ranks until the Blue Jays came calling.
As the Blue Jays evolved from American League expansion club in 1977 to World Series' champions in 1992 and '93, Beeston's influence increased throughout. From Vice-President of Business Operations in 1977 he became Executive Vice-President, Business in 1984, President and Chief Operating Officer in 1989 and Chief Executive Officer in 1991.
Beeston's impact on the game hasn't been confined to the Blue Jays because from 1997 to 2002 he served as President and Chief Operating Officer of Major League Baseball. He returned to the Blue Jays and Rogers Centre as Interim President and Chief Executive Officer from October 2008 to October '09 when he then assumed those positions full-time through to the 2015 season.
Along with his many hats with the Blue Jays, Beeston lists himself first – and foremost – as a fan of the club. He is a constant presence at Rogers Centre and was extremely supportive as the club made the transition to President & CEO Mark Shapiro. It was during the Blue Jays' push for a second consecutive postseason appearance last September that Beeston was announced as the club's first President Emeritus, a title he will retain in perpetuity.
"Paul's achievements and dedication to both the Blue Jays and MLB is incomparable," Shapiro noted at that time. "This is simply a small token of recognition for the nearly four decades he's given the game. We felt it was right to honour the legacy he has built and ensure he's a part of the future successes of this team."
To emphasize his zest to place winning at the top of the list, Beeston re-affirmed his desire to help bring a championship back to Toronto.
"I am confident we will achieve that goal and get back to where we have not been for over 23 years … go Jays!" he said.
And tonight, it's our turn to honour Paul Beeston's significant contributions to Canadian sports with our second Conn Smythe Lifetime Achievement Award. Like our first recipient Cliff Fletcher in 2016, Beeston is a classy icon that has left an indelible legacy in our country's sporting history.
We congratulate Paul Beeston with this well-deserved recognition and thank him as well for his enduring commitment to Easter Seals Ontario and the Conn Smythe Sports Celebrities Dinner!