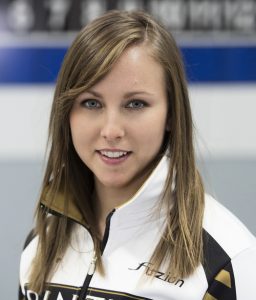 Team Homan – skip Rachel Homan, third Emma Miskew, second Joanne Courtney and lead Lisa Weagle – entered 2016-17 as the No. 1 ranked women's curling team in the world in the Order of Merit. And right on the button, Team Homan is waging another battle with Manitoba's Jennifer Jones in the Canadian Team Ranking System where Rachel skipped her crew to the top of those rankings in 2012-13 and in 2015-16.
Ottawa native Homan, who turns 28 on April 5th, took the game in 1994. This highly accomplished member of the Ottawa Curling Club – the oldest curling club in our nation's capital – captured four consecutive bantam championships from 2003-06, Gold at the Canada Winter Games in 2007 and Silver at the World Junior Championships in 2010. Team Homan qualified for its first Scotties Tournament of Hearts in 2011 and showed its potential by placing fourth. It scored a major victory for Ontario in 2013 with the province's first Scotties title since 1996 by upending unbeaten Jennifer Jones's Manitoba rink 9-6 in the final.
The following year under the Canada banner, Team Homan went a perfect 13-0 as Rachel, just shy of her 25th birthday, became the youngest skip to win back-to-back Scotties Tournament of Hearts. Those consecutive triumphs qualified Team Homan for the World Curling Championships that produced Bronze in 2013 and Silver in 2014. Team Homan then earned Bronze at the Scotties in 2015. Team Homan became the first-ever women's team to compete in a men's Pinty's Grand Slam of Curling event (the Elite 10 last March in Victoria), finishing with a record of 1-3.
Without doubt the well-seasoned but still youthful Rachel Homan is one of Canada's curling superstars and someone to watch for many years to come.