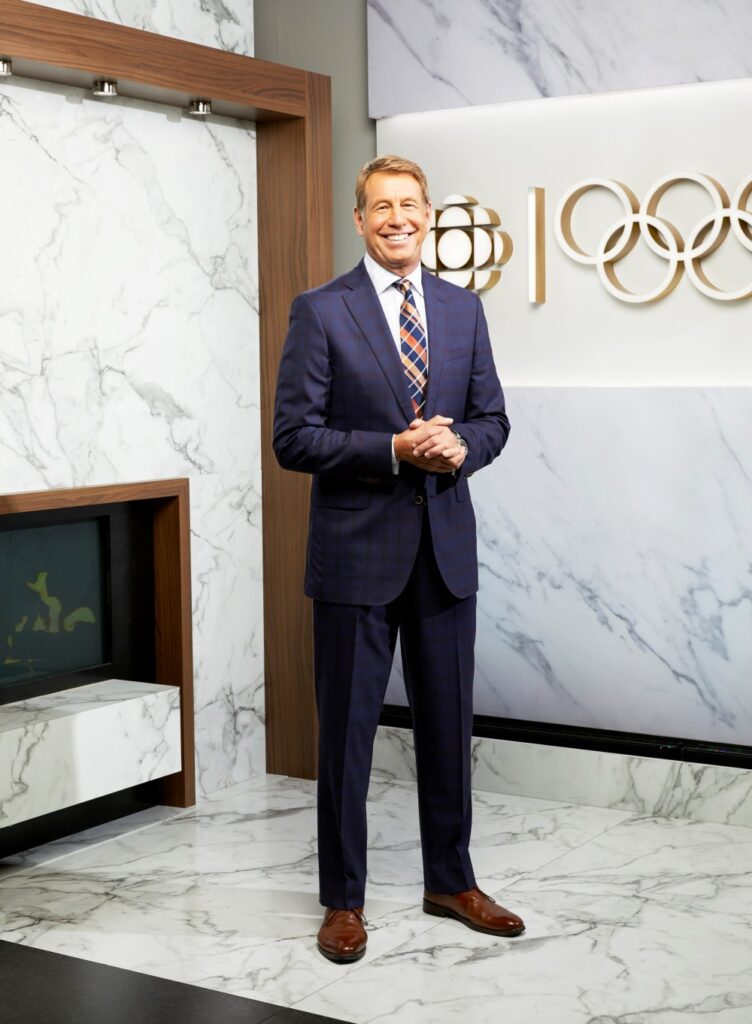 A Canadian Screen Award and Gemini Award-winning broadcaster and acclaimed author, Scott Russell brings vast experience, passion and knowledge to his role as one of the hosts of CBC Sports Presents, alongside Andi Petrillo each weekend. Russell's unparalleled enthusiasm for amateur sport shines through in every aspect of his work for the network.
A CBC Sports veteran of more than 25 years, Russell has covered 16 Olympic Games including his most recent work as host of Olympic Games Primetime during CBC/Radio-Canada's coverage of the Tokyo 2020 and Beijing 2022 Olympic Games and Tokyo 2020 and Beijing 2022 Paralympic Games. Russell also hosted CBC's prime time coverage of the Toronto 2015 Pan Am Games. In 2014, Russell was the network's on-site host for coverage of the XX Commonwealth Games in Glasgow, Scotland – his sixth Commonwealth Games with CBC – as well as hosting CBC's primetime coverage of 2014 FIFA World Cup Brazil™. He has also hosted the 2010 FIFA World Cup South Africa and the 2011 FIFA Women's World Cup Germany. In addition, Russell was a host and rink-side reporter for CBC's Hockey Night in Canada for 14 years. Outside of his hosting duties, Russell authors insightful blog posts at cbcsports.ca where he discusses the world of sport from all angles. He is also a member of the CBC Sports initiative on women in sports.
After joining CBC Charlottetown in 1985 as a reporter, Russell turned to sports in 1986 and quickly established himself as a talent. From 1988 to 1992, he was a sports reporter and anchor for CBMT in Montreal until he moved to Toronto as a network sports commentator.
In addition to his roles at CBC, Russell has taught a course in Canadian Sports History at Toronto's Centennial College. He is also a member of the Canadian Olympic Committee's Education Committee as well as the Ambassador's Council for the Amici camping charity. He serves on the Advisory Panel for the Canadian Centre for Ethics in Sport and the Public Policy Forum on Value-Based Sport. He has served on the Honoured Members Selection Committee for Canada's Sports Hall of Fame, and currently serves on the Selection Committees for the Lou Marsh Award/Canada's Athlete of the Year, and the Toronto Sports Hall of Honour. He serves as an honorary board member of the Paralympic Foundation of Canada, has an honorary doctorate (D.Litt.) at Nipissing UNiversity in North Bay, ON, and serves on the advisory board of the International Centre For Olympic Studies At Western University.
Russell is a graduate of Western University and holds an M.A. in Journalism. In 2014, he was honoured by Sports Media Canada with the George Gross Award for Outstanding Broadcasting. In 2013, he was presented with a CBC President's Award in the Brand Champion category in recognition of his dedication and enthusiasm for his work covering amateur athletics for the network.
Russell has penned two books on hockey, Ice Time: A Canadian Hockey Journey and The Rink – Stories from Hockey's Home Towns, which he co-wrote with Chris Cuthbert. Russell's third book, Open House: Canada and the Magic of Curling, is a grassroots look at one of this country's favourite sports.