2019 CONN SMYTHE LIFETIME ACHIEVEMENT AWARD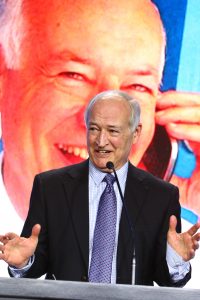 On February 13th, 2018, Jerry Howarth announced his retirement after 36 exceptional seasons of calling Toronto Blue Jays' action on radio. Tom Cheek and Jerry will always by synonymous as the voices of the Blue Jays. With the passing of Tom on October 9th, 2005, Jerry maintained that legacy to the highest standards until he concluded he no longer could do so.
"I just did not feel that my overall strength and stamina could carry me through another season," Howarth said. "I wasn't sleeping well and had some congestion that continued to affect my voice. I did not want to let myself or our audience down so I decided to retire."
His decision was met with a response that was both loving and overwhelming. Fans, friends, colleagues and the world of baseball let him know just what he meant to them. The tributes haven't stopped.
Last fall he received two prestigious honours. First, Howarth joined Ted Rogers and Phil Lind as the first inductees into the Sportsnet Hall of Fame. Next, he was selected recipient of Sports Media Canada's George Gross-Don Goodwin Award for Career Achievement.
Tonight at the 68th Conn Smythe Sports Celebrities Dinner & Auction in support of Easter Seals Kids we salute Jerry with the Conn Smythe Lifetime Achievement Award for significant contributions to Canadian sports. He follows Cliff Fletcher, Paul Beeston and Paul Henderson for this tribute. Fittingly, Beeston will be Jerry's presenter.
"Receiving just the fourth Conn Smythe Lifetime Achievement Award with such luminaries as Cliff Fletcher, Paul Beeston and Paul Henderson is an unbelievable honour when you consider the company I am now keeping," Howarth said. "I have known the two Pauls since we moved here in 1982 and have seen firsthand what they have meant to our country in both baseball and hockey.
"And while I did not know Cliff, I certainly knew of him and his outstanding career and the contributions he made to hockey. That is why this award is so meaningful and humbling for me to now enjoy with both my family and the many friends I have made here in Toronto and across Canada over the last 37 years."
During his first year away from baseball, Howarth has managed to stay connected. He's visited Rogers Centre to say goodbye to the many players, managers and coaches he'd gotten to know over the years. He also made radio and TV contributions with his always welcome comments on the game and the many, many highlights he called.
In an article last season for PlayBall! the official game program of the Toronto Blue Jays, Jerry provided his favourite moments from his 36 seasons. Here, in reverse order, are his top three:
#3 Having so much fun in 2015 broadcasting games at home in August, September and October before the loudest and most passionate fans I had ever heard at the Rogers Centre capped with calling Jose Bautista's dramatic home run with the iconic bat-flip against the Rangers in the clinching Game 5 of the ALDS.
#2 Calling Dave Winfield's two-run double in the top of the 11th inning in Game 6 of the 1992 World Series in Atlanta and then turning the microphone over to Tom to call the bottom of the 11th inning as the Blue Jays won their first-ever World Series Championship.
#1 Going through the clubhouses and congratulating each and every player for their contributions winning the two World Series in 1992 and 1993 with my two sons, Ben and Joe, on each arm as my wife, Mary, smiled and watched.
You – and fans everywhere – will be able to read Jerry's story firsthand with the imminent release of his book entitled: HELLO FRIENDS! Stories From My Life and Blue Jays Baseball. That passionate reflection was one of the many joys he's savoured since he's put away his microphone.
"I love my retirement and Mary and our boys by FaceTiming with Ben and Megan and their two young sons in Chicago and seeing firsthand here Joe and Kathy's son, Wes," Howarth said. "And I'm playing a lot of duplicate bridge and loving the competition. I have a few very good partners and have grown in leaps and bounds from February going from 0 master points to 32 and counting. Haha! Who knew? It's all good and it certainly fits my routine and personality, just like at the microphone; everything is the same except no talking. It's pretty cool and a wonderful gift in retirement to spend these overall hours to the max!"
Congratulations Jerry on your much-deserved Conn Smythe Lifetime Achievement Award!