Honouring Paul Henderson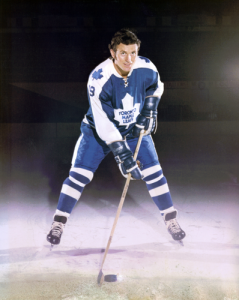 Paul Henderson was the hero of the historic 1972 Summit Series between Canada and the Soviet Union, scoring the winning goal in the final three games, but he will always be remembered and celebrated mostly for scoring the winning goal in the eighth and final game.
That goal might made Henderson a star, but it didn't define him as a person.
A native of Kincardine, Ontario, Henderson played for the Detroit Red Wings, Toronto Maple Leafs and Atlanta Flames in the NHL, as well as the Toronto/Birmingham Toros of the WHA.
He was inducted into Canada's Sports Hall of Fame individually and along with Team Canada.
He was awarded the Order of Canada in 2013 for his social and charity work, as well as his hockey achievements. A year later, he received the Order of Ontario.
All of which makes Paul Henderson a most fitting 2018 recipient of the Conn Smythe Lifetime Achievement Award.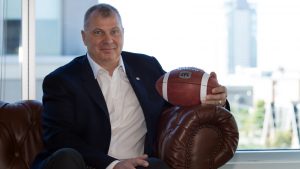 With enormous passion and pride, Randy Ambrosie says the Canadian Football League is "wrapped into my DNA." He was introduced as the 14th Commissioner in League history on July 5th, 2017. The 54-year-old Winnipeg native excelled as an All-Canadian offensive lineman with the University of Manitoba where he also earned a Bachelor of Commerce degree. The Calgary Stampeders made him the No. 2 overall pick in the 1985 Canadian College Draft. His CFL career saw him with Calgary (1985-87), Toronto (1987-88) and Edmonton (1989-93) where he savoured a Grey Cup championship during his final season with the '93 Eskimos. Playing in the pits took its toll on Ambrosie's knees and hastened his retirement. His fervour for the CFL saw him initially take a role with the CFLPA before he put his financial studies from the University of Manitoba, the Columbia University School of Executive Education, the University of Michigan Business School's Executive Education Centre and the Wharton School of Business to good use as the leader for some of the most well-known securities companies. Now he's ready to guide the CFL envisioning the League to be "way better … way stronger" in five years' time.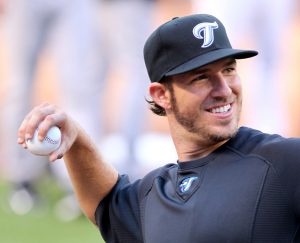 He delivered an unbelievable Major League debut with the Blue Jays on August 7th, 2010 before retiring as a pro after 10 seasons on January 18th, 2017. J.P. Arencibia hit 80 home runs in 466 Big-League regular-season games with Toronto, Texas and Tampa Bay from 2010 to 2015 – 64 in 380 games with the Blue Jays. That included 23 in 2011 when he set the Blue Jays' record for most home runs in one season by a catcher. During his momentous introduction to The Show, the Miami native had his biggest booster – his Mom – and the crowd at Rogers Centre on their feet … he hit the first Major League pitch he saw from Tampa Bay's James Shields out of the park. He finished that stunning afternoon going 4-for-5 with two homers, a double and three RBI. J.P. became the second player in MLB history to have four hits and two homers in his ML debut since Charlie Reilly of Columbus in the American Association on October 9th, 1889. On Twitter when he announced his retirement, J.P. said "Toronto and Canada will always hold the biggest part of my heart … I always felt at home there." It was the most profound aspect of living his Major League dream!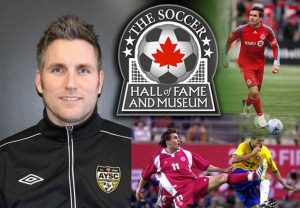 TFC history shows that defender Jim Brennan is the first player ever signed by the MLS club (on September 8th, 2006), the club's first captain and the first Canadian to score a goal for TFC! He also answered the call for Canada 49 times, including the victorious 2000 CONCACAF Gold Cup squad. His hometown is Newmarket and he spent just over a decade in England with Bristol City, Nottingham Forest, Huddersfield Town, Norwich City and Southampton before leaping at the chance to become the initial face of the fledgling MLS franchise. In that inaugural season playing before the most passionate fan base in the MLS, Brennan was selected TFC's Defender of the Year and shared TFC's MVP award with Carl Robinson. Brennan became known as the "Iron Man" playing every minute of TFC's first 27 games until a knee injury sidelined him for the final three games. His pro career ended with TFC in 2010. When TFC reached the MLS Cup Final in 2016 and then won the MLS Cup in 2017, Jim Brennan was mighty proud indeed. After all, this first Reds is a forever Red!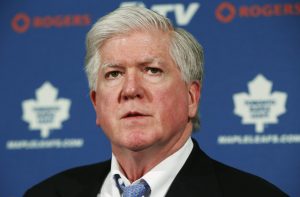 So why doesn't Brian Burke tie his ties? "Sheer laziness" he explained during one interview. Regardless, it is the fashion statement synonymous with one of hockey's most forthright and passionate executives. Born in Providence, Rhode Island and raised in Edina, Minnesota, his outstanding service to hockey in the United States made him recipient of the Lester Patrick Award in 2008. Burke joined the Calgary Flames on September 5th, 2013 in the newly created role of President of Hockey Operations. When he became interim GM of the Flames in 2013-14 he set the NHL record for holding the GM position for a total of five different teams (Hartford, Vancouver, Anaheim, Toronto and Calgary). That included Anaheim's only Stanley Cup Championship in 2007. He also possesses NHL front-office experience where he served as Executive Vice President and Director of Hockey Operations for five years. Burke's devoted much of his time as well to Team USA. He was GM of Team USA's Silver Medal men's squad at the 2010 Vancouver Olympics. Throughout his hockey journey, Burke has been a huge proponent of supporting worthwhile causes, including our event during his time with the Maple Leafs (2008-13) and even after his departure. Thank you, Brian!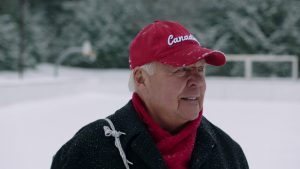 At 5-foot-7 and just over 170 pounds, Yvan Cournoyer's combination of speed, smarts and opportunism earned him the nickname "The Roadrunner." Those who had the pleasure of witnessing the Drummondville, Quebec native's brilliant career with the Montreal Jr. Canadiens (1961-64) and Les Habitants (1964-79) will agree no one in the game was faster from the blueline in than this exciting right-winger. He is tied with Jean Beliveau with 10 Stanley Cup championships, second only to Henri Richard's 11. In 1973, Cournoyer captured the Conn Smythe Trophy as playoff MVP after scoring 15 goals and 25 points over the 17 games it took for the Habs to emerge as Stanley Cup champions. Back finally slowed down the speedster but his Hockey Hall of Fame credentials were firmly established with 863 points including 428 goals over 968 regular-season games plus 127 points (64 goals) in 147 playoff games. His highlights revolve around his many Stanley Cups and the 1972 Summit Series where he produced three goals and five points. It was his shoot-in that preceded Paul Henderson's historic goal to win the series – and the jubilation that ensued with the historic photo of the delirious Henderson in the arms of The Roadrunner.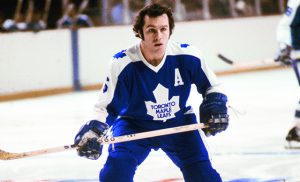 "Consistent" and "dependable" aptly describe the distinguished hockey career of right-winger Ron Ellis. He starred for the 1964 Memorial Cup champion Toronto Marlboros and as a 22-year-old he was a key young component with the 1967 Stanley Cup-winning Maple Leafs. Born in Lindsay, Ontario, Ellis played 16 seasons for the Leafs (1963-64 through 1980-81). He is prominent on the club's all-time lists: Fifth in regular-season games played (1,034), sixth in points (640), fourth in goals (332 – one of only four to score 300-plus goals as a Leaf) and fourth in game-winning goals (50). He scored 20-or-more goals in 11 seasons, including 10 consecutive campaigns from 1966-67 through 1977-78 and twice surpassed 30 goals in a season. He was so respected that Hall of Famer Ace Bailey asked that his No. 6 be un-retired so Ellis could wear it. In 1972, Ellis was a formidable part of Team Canada where he joined Bobby Clarke and Paul Henderson for the squad's most reliable line. For more than 20 years now, Ellis has served the Hockey Hall of Fame, currently as Program Director, HHOF Development Association. The sport is all the better for his continued association and contributions.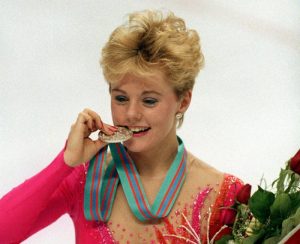 Thirty years ago this month Elizabeth Manley's dazzling first-place performance in the free skate vaulted her to the Olympic Silver Medal at the Saddledome in Calgary. It was an exceptional performance and a welcome, uplifting accomplishment as Canada's best results among five total medals in those Olympics came in figure skating where Manley and Brian Orser claimed Silver. Who can forget the radiant Manley, dressed in red, carrying a bouquet of red roses and holding the Canadian flag posing for photos putting a bite on the Silver Medal where only the legendary Katarina Witt rose above her! The pride of Belleville had won over the hearts of Canadians everywhere. She spent more than 30 years in amateur and professional figure skating and participated in the 1984 Olympics at Sarajevo as well as in her homeland. Her 50 national and international achievements also included being a two-time U.S. Open Figure Skating Champion, three-time Canadian Figure Skating Champion and the 1988 World Figure Skating Silver Medallist where once again, only Witt surpassed her. The first Canadian female to successfully land the triple-double combination jump in competition is most remembered, however, for the glory in Calgary and the smiles – hers and of a nation – that accompanied it.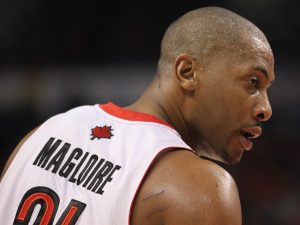 During his days starring for the Eastern Commerce Saints, Jamaal Magloire was the dynamic force in a 67-game winning streak that produced two provincial titles. He then shot .714 from the floor in six March Madness games in 1998 as the "Big Cat" for the NCAA champion Kentucky Wildcats. The 6-foot-5, 211-pound centre was selected 19th overall in 2000 by Charlotte where he played for the Hornets from 2000-05. He is the second Canadian after Steve Nash to be selected as an NBA All-Star, leading the Eastern Conference with 19 points in the 2004 NBA All-Star Game. Over his 12-year NBA career, his best statistical season was 2003-04 with the New Orleans Hornets when he averaged 13.6 points, 10.3 rebounds and 33.9 minutes in 82 games. The Toronto native played for Milwaukee (2005-06), Portland (2006-07), New Jersey (2007-08), Dallas (2008) and Miami (2008-11) before becoming the first Canadian-born player to play a regular-season game for the Raptors (2011-12), debuting on December 26th, 2011. He is now in his sixth season as Basketball Development Consultant & Community Ambassador for the Raptors who are very much in NBA championship contention!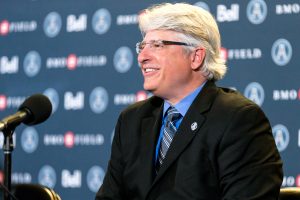 Winning football IS family business for the Popp clan from North Carolina. Born in Elkin, North Carolina, Jim Popp's greatest influence was his coaching legend father, Joe. Both are members of the Mooresville (N.C.) High School Hall of Fame where the stadium is named Coach Joe Popp Stadium. When the Argonauts beat the favoured Stampeders in the 2017 Grey Cup Championship during his first season as GM of the Double Blue it represented the fifth CFL title for a Jim Popp squad (to go along with Baltimore in 1995 – the only American-based franchise to win the Grey Cup – and Montreal 2002, '09 and '10). It was also the 11th Grey Cup appearance for a Popp-led team (the most ever by a CFL GM) joining his two with Baltimore and eight with Montreal. The Argos' first-place finish in the CFL East in 2017 marked the 12th time his team topped a CFL division. He ranks second all-time in CFL history with 263 regular-season wins as a GM. That legacy started over the two seasons (1994-95) the Stallions played and carried over to the Alouettes from 1996 to 2016. Now that Jim Popp magic formula belongs to the Argos!