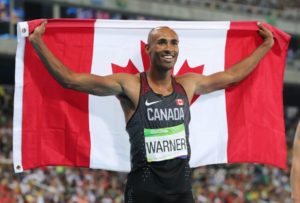 The first Canadian to earn the honourary title of "World's Greatest Athlete" is London's own Damian Warner. He spectacularly accomplished that crown by leading wire-to-wire over the grueling two-day, 10-discipline decathlon event at the hot, humid 2020 Tokyo Olympics (which were held in 2021 due to Covid-19). His 9,018 total points set an Olympics record as he also became the fourth man to eclipse the 9,000-point plateau in the Olympics. Unsurprisingly, Warner carried the flag for Canada at the Tokyo Closing Ceremony.
Now 32, Warner has already let it be known he hopes to defend his title at the 2024 Olympics in Paris. Tokyo represented a third Olympics for Warner who finished fifth at London in 2012, claimed Bronze at Rio in '16 building to his Gold in Tokyo. Along with those results, Warner took Gold at the 2014 Commonwealth Games (in Glasgow) and at the Pan American Games (2015 in Toronto and 2019 in Lima). He captured IAAF World Championships Silver in 2015 plus Bronze in 2013 and '19.
The international exploits of Canadian heroes Catriona Le May Doan and Donovan Bailey inspired Warner's Olympics dreams. But before turning to track and field at the urging of his basketball coaches when he was 17, Warner eyed pro sports because he idolized Raptors great Vince Carter.
Along with taking medals at major competitions, Warner has assembled a prominent – and growing – stuffed animal collection to savour those moments even more. His favourite motto is "you can do anything you set your mind to" – and his current reign as "World's Greatest Athlete" is proof of that!