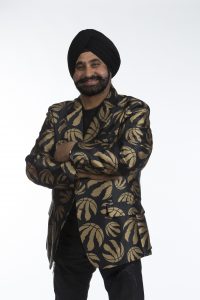 Nav Bhatia's fervent drive made him prevail over the strife he left behind in his native Delhi, India and the initial racism he endured as a visible minority when he came to Canada in 1984. Unable to find work as a mechanical engineer, he rapidly rose to become one of Canada's best car salesmen and dealership owners.
But when the NBA's Toronto Raptors first took to the court in 1995, Bhatia found a new passion, cheering from his courtside seat with such emotion and devotion that in 1998 GM Isiah Thomas officially made the club's Superfan. From November 3, 1995 until December 10, 2021, Superfan never missed a Raptors game available for attendance in Toronto – a streak that ended only because he had to go into isolation after exposure to Covid-19.
Superfan has a championship ring from the magical Raptors' run in 2019 and in 2020 he was announced as part of the Inaugural Class for the James F. Goldstein SuperFan Gallery at the Naismith Memorial Basketball Hall of Fame in Springfield, Massachusetts. For that, Superfan received another ring once the Covid-postponed induction was held last May. Nav's display at the Hall includes his turban, Raptors Superfan jersey and courtside seat.
Over the years, Superfan has purchased thousands of tickets so kids could attend Raptors games while the Nav Bhatia Superfan Foundation has built courts and held camps for kids in Canada and across the globe. His goal continues to be to "unite all of us from different backgrounds and faiths through the game of basketball."
Super thanks to Superfan!