More than 65 years ago, a small but dedicated group of people took one special night and turned it into a time-honoured tradition that is known today as the Rogers Conn Smythe Sports Celebrities Dinner & Auction in support of Easter Seals kids.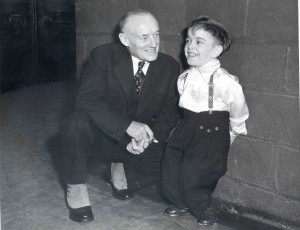 In 1950-51, Max Bentley, hockey star with the Toronto Maple Leafs and the Chicago Black Hawks, was invited to be a head table guest at a sports dinner in Buffalo, New York. Then a player with the Leafs, Bentley asked Jim Vipond, a Toronto sportswriter, to accompany him. Jim Vipond came back to Toronto and described this great sports event to the newly formed Ontario Sportswriters and Sportscasters Association (O.S.S.A.), which at the time was scouting for a fundraising project. The O.S.S.A. borrowed the sports dinner concept and the "Sports Celebrities Dinner" was born, choosing the Ontario Society for Crippled Children (now Easter Seals Ontario) as the charity of choice to benefit from the dinner.
On March 13, 1952, O.S.S.A. held the first "Sports Celebrities Dinner" in Toronto. A total of 437 people attended and raised $10,820 for Easter Seals Ontario. No one could have imagined how distinguished and significant this event would become in the years to come.
In 1981, the dinner was named the Conn Smythe Sports Celebrities Dinner, honoring the late Conn Smythe who died in 1980. Smythe was the founder of Maple Leaf Gardens and a member of Easter Seals Ontario Board of Directors since 1946. He was one of the true great philanthropists, with a passionate devotion and affection for children with physical disabilities.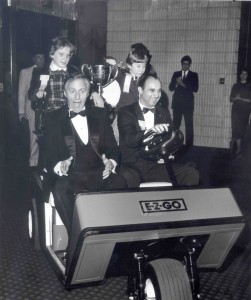 More than six decades later, Canada's most successful and prestigious sports dinner has raised more than $9.6 million for youth and young adults with physical disabilities. The star studded occasion has seen some of the sports world's greatest athletes grace its stage from hockey's Wayne Gretzky, Johnny Bower, and Gordie Howe to baseball favorites Paul Molitor and Tommy Lasorda, football's Joe Thiesmann and Michael "Pinball" Clemons, boxing champions like Lennox Lewis and Rubin "Hurricane" Carter, tennis stars John McEnroe and Daniel Nestor, motor racing's Mario Andretti and Scott Goodyear, as well as Olympic champions Silken Laumann and Mark Tewksbury.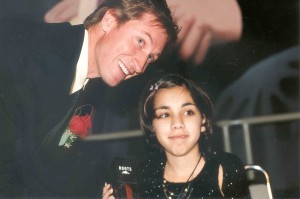 The Conn Smythe Dinner has 65 years of great memories, many of these moments not captured at the dinner itself; moments like a child receiving a new wheelchair or walker, or the sheer joy of children leaving their wheelchairs behind and getting into a canoe for the first time at one of the specialized Easter Seals camps. These are the memories that the Rogers Conn Smythe Sports Celebrities Dinner & Auction helps to create. The proceeds raised from this dinner lead to days of independence and freedom for many children with physical disabilities.
Thank you for your kindness.