Honouree – 2018 Conn Smythe Lifetime Achievement Award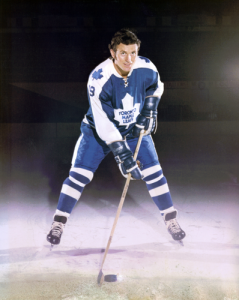 A skilled right-winger, Paul Henderson used his speed and a willingness to gamble on offense to great effect during his pro tenure. He scored at least 20 goals seven times in the NHL and was a top performer in the World Hockey Association. Despite an exemplary career as a professional, Henderson carved his permanent place in hockey history with his scoring heroics for Team Canada in the 1972 Summit Series versus the Soviets.
Born in Kincardine, Ontario, Henderson was signed as a teenager by the Detroit Red Wings' organization. He was a standout with the parent club's top junior affiliate, the Hamilton Red Wings, where he scored an OHA best of 49 goals in 48 games during the 1962-63 season. That impressive year also featured a two-game call-up to the Wings. The next year he split his playing time between the Motor City and the Pittsburgh Hornets of the American Hockey League.
Henderson developed into a consistent, full-time NHL winger in 1964-65, playing on a line with Pit Martin and Larry Jeffrey. The following season he recorded his first 20-goal season and helped Detroit reach the Stanley Cup final, where they succumbed to the Montreal Canadiens in six games. Henderson lost 24 games to injury in 1966-67 but still managed to score 21 goals.
Late in the 1967-68 season, Henderson was involved in a multi-player deal that brought him to the defending Stanley Cup-champion Toronto Maple Leafs. Norm Ullman was the key player joining Henderson in Hogtown while the Wings' prize catch was Frank Mahovlich.
Henderson scored a personal best of 27 goals during his first full year in Toronto in 1968-69. He formed an effective partnership with former Red Wings teammate Norm Ullman and emerging star Ron Ellis. Between this season and 1971-72, the Ullman-Henderson-Ellis line established a host of Maple Leafs single-season scoring records for a forward line. In 1970-71 Henderson scored a career high of 60 points then registered a personal best of 38 goals the following season.
What was lacking from this period of individual success for Henderson was any sort of post-season achievement by Toronto. After being in 33 playoff games in three seasons from 1963-64 to 1965-66 with Detroit, Henderson took part in only 19 post-season matches in seven seasons with the Maple Leafs.
The triumph that stands out in Henderson's career is from the early 1970s. Coming off his 38-goal performance in 1971-72, the speedy winger was deemed a potential asset on the Canadian squad being that was assembled for the upcoming Summit Series against the Soviets. Team Canada coaches Harry Sinden and John Ferguson believed that Henderson would add depth and stability to their squad. Nobody on either team could have anticipated what would transpire during the series.
During Canada's disappointing 1-2-1 showing in the first four games of that series in Montreal, Toronto, Winnipeg and Vancouver, Henderson performed admirably on what was essentially a checking line. He and linemates Ron Ellis and Bobby Clarke were the most cohesive unit from the first day of training camp and they were arguably three of the most consistent players among the Canadian contingent in the first half of the series.
After a heartbreaking loss in the first game in Moscow, game five of eight, Canada stormed back to win the last three games, each by a goal. Remarkably, Henderson scored the winner in each of these one-goal decisions. The most spectacular was the winner with two minutes to go in game seven, which gave Canada a 4-3 win.
Late in the eighth game, with the score tied 5-5, Henderson called for Pete Mahovlich to come off the ice. He immediately headed for the net and narrowly missed his first chance before jumping on the rebound of a Phil Esposito shot. Henderson took two swipes at the puck before slipping the series-winner past Vladislav Tretiak with 34 seconds left in the game. This historic moment earned Henderson a special place in Canadian history. Nearly every Canadian who is old enough is able to recall where they were when "the goal" was scored.
Exhausted and distracted 1972-73, Henderson managed to play only 40 games for Toronto. The team was seriously weakened by defections to the World Hockey Association and finished well back of playoff contention. Improvements came the following season and Henderson scored 24 goals in 69 games. During this period, Maple Leafs owner Harold Ballard feuded with many of his players. After experiencing the euphoria of the Summit Series, Henderson felt the environment around the Toronto team seemed stale. This contributed to the famous winger's yearning for a change of scenery.
Henderson stayed in Toronto but joined the Toros franchise of the World Hockey Association prior to the 1974-75 season. Before suiting up for his new club, he took part in the 1974 Summit Series, which matched most of the Soviets from the previous series against a Team Canada squad made up of the top stars from the WHA. Skating with the likes of Gordie Howe, Bobby Hull and '72 series-veteran Frank Mahovlich, Henderson was expected to come up with some pretty good offense and leadership. He played well but the Soviets were out for revenge and posted a 4-1-3 series win.
In five seasons with the Toronto Toros/Birmingham Bulls franchise, Henderson scored 140 goals but took part in only five playoff games. On September 17, 1979, he was signed by the Atlanta Flames and split the season between that NHL team and the Birmingham Bulls of the Central Hockey League. Henderson scored his last 13 NHL points in Dixie before retiring from the league. One night in March, he gained a measure of revenge against Ballard by scoring two goals in a 5-1 Atlanta win at Maple Leaf Gardens, which earned him selection as the game's first star.
Henderson played his last pro season in 1980-81 and then retired. His NHL total is 236 goals, but it was his unforgettable moments on the ice at the Luzhniki Arena in Moscow that ensured his immortality in hockey history.