CO-RECIPIENT
2022 CONN SMYTHE LIFETIME ACHIEVEMENT AWARD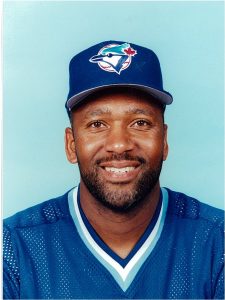 What's in a number? Well, let's think of No. 29 for the Toronto Blue Jays because this year is exactly 29 years after he provided one of the greatest moments in Canadian sports history.
The date: Saturday, October 23, 1993. The place: SkyDome in Toronto. The World Series: Blue Jays up 3-2 on the Philadelphia Phillies. The crowd: 52,195. The moment: Bottom of the ninth, Rickey Henderson on second, Paul Molitor on first, one out, Blue Jays down 6-5. The hero: Slugging outfielder Joe Carter.
The famous call by the voice of the Blue Jays Tom Cheek: " … two balls and two strikes on him … here's a pitch on the way … a swing and a belt … left field, way back … Blue Jays win it! … the Blue Jays are World Series champions as Joe Carter hits a three-run home run in the ninth inning and the Blue Jays have repeated as World Series champions … touch 'em all Joe, you'll never hit a bigger home run in your life … "
The images of the smiling Carter circling the bases and jumping for joy as the nation went absolutely berserk with euphoria is everlasting. He starred for the Blue Jays from 1991 to '97, highlighted by his World Series' masterpiece, but aside from his on-field presence he was a force in the community as well.
The 71st Rogers Conn Smythe Sports Celebrities Dinner & Auction in support of Easter Seals Kids is proud to celebrate Joe Carter and Eric Lindros as co-recipients of the 2022 Conn Smythe Lifetime Achievement Award for significant contributions to Canadian sports.
Cliff Fletcher (2016), Paul Beeston (2017), Paul Henderson (2018), Jerry Howarth (2019) and Michael (Pinball) Clemons (2020) are the other previous recipients of this distinguished award.
First a look at Carter's MLB portfolio. In his 16-year Major League career, he hit .259 with 432 doubles, 396 homers and 1,445 RBI while playing for the Chicago Cubs (1983), Cleveland Indians (1984-89), San Diego Padres (1990), Toronto Blue Jays (1991-97), Baltimore Orioles (1998) and San Francisco Giants (1998).
But he is most remembered as a Blue Jay where he was anointed with the club's highest honour – The Level of Excellence – on July 30, 1999. Carter was acquired along with Roberto Alomar in a blockbuster trade on December 5, 1990 which saw Tony Fernandez and Fred McGriff head to the Padres.
In 1,039 games with Toronto, he hit .257 with 578 runs, 218 doubles, 28 triples, 203 home runs, 736 RBI and 78 stolen bases. A five-time All-Star with the Blue Jays, his home-run total ranks fifth all-time on the club.
But that walk-off home run off Mitch (Wild Thing) Williams … well … simply unforgettable.
"He (Williams) jerked a fastball down and in – more like a cut fastball – and because I was thinking breaking ball, I kind of stayed back on the ball," Carter once said in an interview with Gregor Chisholm of mlb.com. "Normally, if I'm looking fastball, I'd either swing-and-miss at that ball and nine times out of 10 times, I hook it into the third-base dugout and scatter my teammates.
"But in that particular moment because I was looking breaking ball, I kept my head down and when I made contact, I never saw the ball. All I saw was the bank of lights. I knew I hit it good, but I didn't know if I hit it high enough to get over the fence."
Beyond touching them all that night, the contributions Carter made away from the game, even to this day, are worthy of praise.
Joe and his wife were active off the field as the Diana & Joe Carter Foundation operated the "Jumpin' with Joe" program which provided needy children throughout the Toronto area with a day at Teen-Ranch, Christian Youth Camp and tickets for a Toronto Blue Jays game where Joe would speak to all of the children. He worked with many other charities including Ronald McDonald House and also hosted an annual charity golf tournament.
He is also proud that this year marks the 13th annual Joe Carter Classic Charity Golf Tournament which pairs avid golfers with top name celebrities from the worlds of sport and entertainment. Proceeds from the event go towards supporting the education and development of Canadian youth through the Joe Carter Scholarship Fund and the Joe Carter Family Support Fund. Since 2010, the Joe Carter Classic has raised and pledged $2,500,000 to benefit Children's Aid Foundation of Canada and other children's causes.
Tonight, he returns to Toronto to assist Easter Seals Kids. And in so doing, it's our turn to say "thank you Joe and congratulations on your much-deserved Conn Smythe Lifetime Achievement Award!"