2020 CONN SMYTHE LIFETIME ACHIEVEMENT AWARD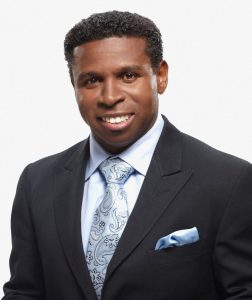 He is a larger than life football legend with a veritable inspiration for all he pursues, a massive heart for his community and a nickname that is as memorable as his light-up-the world smile.
Michael "Pinball" Clemons parlayed his 12 brilliant playing seasons (1989-2000) with the Argonauts into becoming a treasured jewel in his adopted country, especially to all of us in the GTA. In fact, he has often stated that he is an American by birth and, as of April 2015 (along with his wife Diane), a Canadian by choice.
At the time of gaining naturalized Canadian citizenship, Clemons said: "Almost 26 years ago, I came to Canada to pursue my passion for football. That passion for football has never waned and is only exceeded by my love for this great country. Not unlike my wife it was love at first sight."
The 69th Rogers Conn Smythe Sports Celebrities Dinner & Auction in support of Easter Seals Kids tonight salutes Pinball with the 2020 Conn Smythe Lifetime Achievement Award for significant contributions to Canadian sports. Cliff Fletcher (2016), Paul Beeston (2017), Paul Henderson (2018) and Jerry Howarth (2019) are the only other previous honourees in this distinguished award.
At 5-foot-6 (1.68 centimeters), 170 pounds (77.11 kilograms) it's hard to fathom how Michael "Pinball" Clemons thrived in football. But that he did, starting in his native Dunedin, Florida, and continuing up the ranks at the College of William & Mary where his football prowess was matched academically as he majored in economics. Finally, his gridiron exploits flourished in the Canadian Football League after his initial pro launch with the Kansas City Chiefs and Tampa Bay Buccaneers.
Pinball was a total bundle of excitement lifting fans out of their seats, motivating his teammates in the process and ushering in a winning era for the Double Blue. He was the CFL's Most Outstanding Player in 1990, a two-time CFL All-Star (1990 and '97) and a three-time CFL East Division All-Star (1990, '94 and '97). He established the CFL regular-season record for most combined yards all-time (25,438) and played on three Grey Cup championship squads (1991, '96 and '97).
The 1996 and '97 editions of the Argos were among the most dominant in CFL history with a remarkable offence spearheaded by the electrifying exploits of QB Doug Flutie and Clemons. Fittingly, the Canadian Football Hall of Fame Class of 2008 welcomed both Flutie and Clemons, a dazzling reunion of true superstars.
For Pinball, his affiliation with the Double Blue didn't end with his last touch of the football. He twice served as head coach – 2000 and '01 as well as from 2002 to '07. His 67 wins as head coach rank second in club history and his tenure at that post was highlighted by the 2004 Grey Cup title.
Pinball was also Argos president in 2001-02 and has been club vice chair since 2009. Overall, he has had a part in six Grey Cup victories for the Argos when one adds the team's successes in 2012 and 2017.
His mission now is fully focused on adding a seventh Grey Cup because last October he was appointed the 20th general manager in club annals.
In announcing that move, Argos president Bill Manning said: "Michael Clemons is the Toronto Argonauts personified and bleeds Double Blue. His passion for this team and this city – and his championship pedigree – will have a profound impact on the direction of this team moving forward."
Michael "Pinball" Clemons has made a huge difference in Canadian sports and within his community where he constantly lends his support. So at this event in 2020, it's our chance to say "thank you Pinball and congratulations on your much-deserved Conn Smythe Lifetime Achievement Award!"