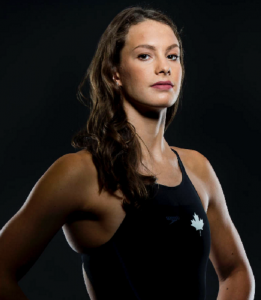 Penny Oleksiak had a record-setting Olympic debut at Rio 2016 on several fronts.
The 16-year-old became the first Canadian athlete to win four medals at a single summer Games. Those four medals also tied her with Victor Davis as Canada's most decorated Olympic swimmer of all-time. She set an Olympic record in tying for gold in the 100m freestyle, making her Canada's first Olympic champion in swimming since Barcelona 1992 and the first woman to earn that title since Los Angeles 1984. She was also Canada's youngest Olympic gold medalist ever.
Anchoring the 4x100m freestyle relay to bronze, Oleksiak and teammate Taylor Ruck became the first ever Olympic medalists born in the 21st century. They added another bronze in the 4x200m freestyle relay and Oleksiak also won silver in the 100m butterfly.
At 15, Oleksiak had an outstanding performance at the 2015 FINA World Junior Championships, bringing home six medals. Three of those were individual silvers, won in the 50m butterfly, 100m butterfly and 100m freestyle. In the latter she shared the podium with gold medalist teammate Ruck. Oleksiak also contributed to three relay medals, highlighted by gold in the 4x100m mixed freestyle relay. She also competed at the Australian Age Group Championships in 2015, tallying eight medals, including five gold (100m and 200m freestyle, 100m and 200m butterfly, 200m IM).