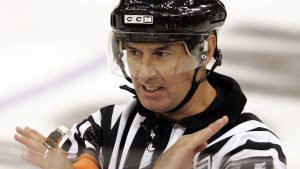 Hockey Night in Canada introduced a 26-year-old host via Red Deer, Alberta by the name of Ron MacLean on October 10, 1986. The 10-time Gemini Award recipient is synonymous with Hockey Night in Canada, Hockey Day in Canada and Rogers Hometown Hockey but his awesome career has seen him shine in assignments/shows such as the Olympics, Commonwealth Games, the Calgary Stampede and The Battle of the Blades.
He is well prepared, knowledgeable, quick witted and worthy of the extreme respect bestowed upon him. MacLean was born in Zweibrucken, Germany (his father, Ron, was stationed in the Air Force at Metz, France when complications during labour necessitated that his mother, Lila, go to the hospital across the border for the delivery).  After spending the first 14 months of his life in France, Ron and family moved to Halifax, then Victoria and Whitehorse in the Yukon.
During his five years in the Yukon, he was introduced to hockey because of his neighbour's outdoor rink. "Hockey Night in Canada was always piped up there a week late then and I'd always watch the games with the excitement as if they were live because I never knew the results." Living in Red Deer from the age of 11 until he left for Hockey Night in Canada, his broadcasting career began in 1978 with CKRD Radio where he was covering junior hockey in 1981.
His adlib of a weather forecast so impressed a producer that it led to his hiring as host of Calgary Flames' games on CFAC-TV from 1984 to '86. Aside from broadcasting, MacLean is a noted high-level hockey referee and best-selling author.