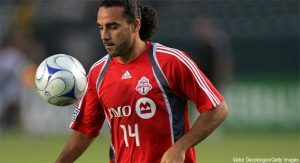 He wears his heart on his sleeve – a fact emphasized during his star-studded career on the pitch while contending with the challenges of his exposure to guns, drugs and racial bias.
Fiercely proud of his Scarborough roots, Dwayne De Rosario left nothing unsaid in his riveting 2021 autobiography DeRo: My Life. It's an inspirational roller-coaster journey about one of the most decorated performers in Major League Soccer and Canada's men's soccer squad.
DeRo was a crafty, dangerous attacking midfielder/forward whose MLS career from 2001-2014 saw him become the seventh player in league history to score 100 goals while his MLS career total of 104 rank him ninth all time. He was a seven-time MLS All-Star and four-time celebrant of the MLS Cup – with the San Jose Earthquakes in 2001 and '03 plus the Houston Dynamo in 2006 and '07. He became the first two-time recipient of the MLS Cup MVP award (2001 and '07). DeRo's MLS appearances spanned 343 matches with San Jose, Houston, Toronto FC (2009-11 where he became the second captain in club history and with FC again in 2014), New York Red Bulls and D.C. United. He scored 20-or-more career goals with San Jose, Houston, Toronto and D.C.
But in storybook fashion the most goals he scored with one club were the 28 with his hometown Toronto FC whom he joined as an ambassador once he officially retired in 2015. Internationally, DeRo's men's record of 22 goals (in 81 matches) was surpassedby Cyle Larin on January 30, 2022. The new wave of Canada's men soccer team is building in a way that does DeRo proud.