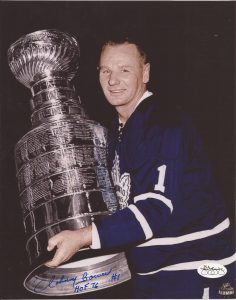 When the Toronto Maple Leafs unveiled Legends Row it came as absolutely NO surprise that the man who wore No. 1 for them – Johnny Bower – joined Ted Kennedy and Darryl Sittler as the first group to be recognized with statues. On the recently released 100 Greatest Maple Leafs of all-time, Bower is No. 7 on the list – the highest ranked goalie in the history of Toronto's NHL franchise.
The NHL launched its year-long Centennial Celebration last New Year's Day by revealing the first 33 members of the 100 Greatest NHL players – and Bower was among that illustrious group. Now 92 years young, Bower remains a much beloved Maple Leaf, drawing standing ovations every time he's introduced.
His story is remarkable considering he was quite content staying in the minors and playing for the American Hockey League's Cleveland Barons. He was 33 years old when the Leafs claimed him during the Inter-League Draft on June 3, 1958. Unlike his earlier and brief NHL stints with the New York Rangers, once Bower got into the net for the Maple Leafs during 1958-59 he stayed there until ending his NHL career with one game during 1969-70.
Known as The China Wall, Bower celebrated four Stanley Cup championships (1962, '63, '64 and '67) and won two Vezina Trophies (one shared with Terry Sawchuk). He was inducted into the Hockey Hall of Fame in 1976. We will always remember his poke check, his wave to the fans and TV cameras when introduced as a game star, his battles against the game's most feared scorers, especially Gordie Howe … and the punishment his mask-less face endured. Johnny Bower … an icon and a true legend.