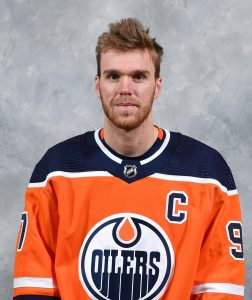 Wayne Gretzky … Mark Messier … Connor McDavid … now that's three of hockey's all-time superstar centres – and McDavid is still only six seasons into his already exciting NHL story.
Aside from the pure desire, skill and take-the-fans-out-of-their-seats that characterize Gretzky, Messier and McDavid they are all proud to have established themselves with the Edmonton Oilers. Like Gretzky and Messier, McDavid seeks to be the modern-era leader who will carry Edmonton back to being the City of Champions.
Now that would be saying something for McDavid as the 24-year-old from Richmond Hill grew up a fan of all things Toronto – Maple Leafs, Raptors and Blue Jays. His hockey allegiance changed in 2015 when the Oilers made him the first overall selection in the NHL Entry Draft. Amid extremely high expectations given his status as a generational phenom McDavid has delivered with spectacular goals, breathtaking/slick creativity and lightning speed. He is highlight reel machine every time he touches the puck.
This season McDavid is once again atop the NHL leaderboard in most categories and well positioned to claim his third Art Ross Trophy as NHL points leader. He has put himself in line for NHL silverware as well where he could very well earn his second Hart Trophy as NHL MVP and his third Ted Lindsay Award as the NHL's Most Outstanding Player as chosen by fellow members of the NHL Players' Association. What's next for No. 97? Just watch…