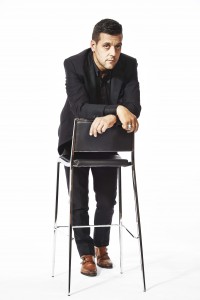 George Stroumboulopoulos, one of Canada's most popular and respected broadcasters, was named host of Hockey Night in Canada / NHL on Sportsnet in March 2014. In addition to his role as host of Hockey Night in Canada, he also co-hosts the weekday radio segment Off the Ice with Strombo and Marek on Sportsnet 590 The FAN.
The ten-time Gemini Award and Canadian Screen Award winner joined Hockey Night in Canada and Sportsnet after an immensely successful 10 years at CBC, where he was the host and co-executive producer of the prime time talk show George Stroumboulopoulos Tonight and The Hour.
As host of Hockey Night in Canada, Stroumboulopoulos is returning to his roots in sports, having spent the first four years of his career as a sports reporter at The Fan 590 (now Sportsnet 590 The FAN).
Stroumboulopoulos began his television career in 2000, joining MuchMusic as the producer and host of NewMusic and MuchNews. In 2005, he moved over to CBC as host and co-executive producer of The Hour, which then became George Stroumboulopoulos Tonight. Stroumboulopoulos expanded his role at CBC in 2007, hosting The Strombo Show, a syndicated music and talk radio show, which still airs Sundays at 8 p.m. on CBC Radio 2.
Throughout his career, Stroumboulopoulos has interviewed some of the most renowned and influential personalities from the NHL and the world of sports including Bobby Orr, Gordie Howe, Guy Lafleur, Patrick Roy, Wendel Clark, Ken Dryden, Jean Beliveau, Gary Bettman, Don Cherry, Hayley Wickenheiser, LeBron James, Andre Agassi, Billie Jean King, Michael Andretti and Johnny Damon. He's also sat down with some of the world's top politicians and celebrities including Oprah Winfrey, Hillary Clinton, Jean Chrétien, Sarah Palin, Al Gore, Brian Mulroney, Tom Cruise, Clint Eastwood, Jared Leto and Barbara Walters.
In addition to his role as a broadcaster, Stroumboulopoulos is active in many social and environmental issues. In January 2010, he brought together actors, artists and athletes for Haiti relief efforts as the executive producer and co-host of Canada for Haiti, a live benefit that raised more than 27 million dollars for Haitian earthquake victims. His charitable work includes Nelson Mandela's Children's Fund (Canada), the Canada Africa Partnership on AIDS (CAP AIDS), War Child Canada, and Make Poverty History. Stroumboulopoulos currently sits on the auxiliary board for The David Suzuki Foundation, as well as Artists for Peace and Justice Canada (APJ). He is also Canada's first Ambassador Against Hunger for the United Nations World Food Programme.